Kejriwal went ahead to explain the healthcare system of Delhi through Mohalla Clinics and HIMS. He also drew parallels between Delhi and London's healthcare models during the discussion.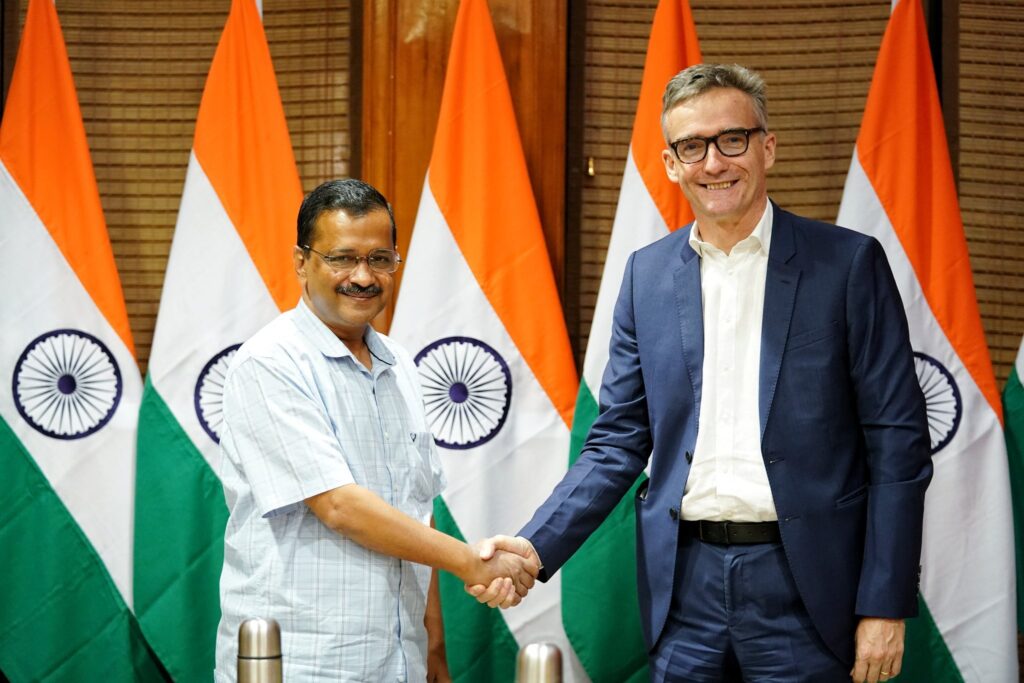 New Delhi: The British High Commissioner to India called upon Chief Minister Arvind Kejriwal at Delhi Secretariat today. He vouched for the possibility of collaboration in roadworks, education & healthcare with Delhi during the meeting. At the same time, British High Commissioner Alex Ellis praised the Kejriwal government's world-renowned work in education, healthcare & governance reforms.
CM Kejriwal said, "Delhi Government has identified education, healthcare, water supply & roadworks as its core priorities. Our government is spending 25 per cent of its annual budget on education; we have spent Rs 85,000 crore on education in the last seven years. We were able to allocate funds because of our commitment to honesty; this helped accelerate Delhi's progress even better."
The Delhi CM discussed the government's core priorities and governance models. He said, "The Delhi Government has identified a few of its core priorities for the coming times. We are radically working upon enhancing Delhi's water supply mechanism, reducing air pollution, and making transport more accessible and sustainable. Quality administration starts from the top. We have given a clear message that we are here to serve the people and slowly and gradually, we are gaining the trust and confidence of the people. We've done a fantastic job in education and health care, and it's being talked about across the country and worldwide."
He further discussed the reforms made in education in Delhi and added, "When we took over the government, the government schools were in a very bad shape. The infrastructure was dilapidated, there were no desks, no toilets, no drinking water, no security and therefore, there was no environment for teaching. There was no accountability, the teachers would come and go back within a few hours without taking classes. At that point it was extremely important to bring everything back on track in the mainstream. We allocated 25 per cent of the state budget for education. We provided a cohesive environment for education not just through infrastructure but through new curriculums too. In the last 7 years, we have spent almost Rs 85,000 crore on education reforms. Now we have state-of-the-art buildings with top-notch swimming pools and facilities at par with private schools. We sent our teachers for training abroad as well as made them attend courses at IIMs. The teachers now impart the quality of education in their capacity. We've brought the standard of education to a world-class level but we now aim to raise the bar even higher."
He went ahead to explain the healthcare system of Delhi through Mohalla Clinics and HIMS. He also drew parallels between Delhi and London's healthcare models during the discussion. "Mohalla Clinics have been set up in every locality where anybody can walk in at any point of the day. This is similar to the universal healthcare system in the UK where primary healthcare centres are in the vicinity of every residential area. Those clinics cater to a very small population while Mohalla Clinics see a huge footfall. And despite having such a large population, the State Government has been successful in providing quality healthcare to every individual. We are currently working to connect all of the Delhi government's hospitals through the Health Information Management System. The citizens of Delhi will be given e-health cards. There will be detailed information about a patient's health in this card. The doctor will have access to his complete medical history using the card. People will also no longer have to wait in line to see a doctor and will be able to schedule appointments online," he said.
Speaking about the cleaning of Yamuna and betterment of Delhi's roads, CM Kejriwal said, "We are committed to providing clean water from tap to the people of Delhi 24×7 and are working fast on it. We are working on several initiatives to increase the availability of water in Delhi. Cleaning Yamuna is our priority. We are seriously working on this. The sewer water from Delhi flows into the Yamuna. As a result, the Yamuna River becomes contaminated. Our goal is to treat sewage water and discharge it into the Yamuna so the water doesn't get contaminated. We are doing this at many places, and the results are encouraging. Similarly, we are working to make Delhi's roads beautiful and smooth, similar to those in European countries. Some roads are being redesigned and built to international standards as part of the pilot project. These roads will also have cycle lanes for clean mobility."
The CM talked about governance reforms in the state while explaining doorstep delivery of services offered by the government and said, "We started doorstep delivery of services in Delhi. Anyone can dial the number 1076 and they can get services like ration cards, caste certificates, electricity and water connection done at their doorstep. There are more than 300 services under the ambit of the facility. The citizens can get an appointment by giving a time slot to the executive on the phone as to when they will be available and a government representative visits their home to complete the procedure and collect the required documents. The same is delivered to the relevant government department via post. All the facilities are available at home and the citizens are not required to visit the offices. This has removed any scope of a middleman getting involved and reduced corruption significantly."
He said, "We can collaborate on green building, solar policy, waste management, road designing, and electric buses." Delhi Government's goal, according to the Chief Minister, is to get higher levels of power supply from solar energy by 2030. "This is something we're already working on. Electric vehicles are also being promoted rapidly in Delhi. We are working to reduce air pollution too. We are improving public transportation to reduce pollution. While promoting electric vehicles, we are also improving supporting infrastructure. We ask for votes on the basis of governance in Delhi. This is the first time in the country that people are soliciting votes from the public based on our work. The Delhi Model is being discussed all over the country, and our party won the Punjab Assembly elections based on the work done in Delhi."