The ruling BJP's pronouncement that it has nothing to do with these cases and that it will obey whatever verdicts come from courts is welcome.

New Delhi: There can be no bigger national interest than maintaining peace and harmony in the country which alone can take India to the path of progress and prosperity. Some recent developments are, however, a matter of concern like the resurfacing of cases involving the Kashi-Vishwanath temple, the Gyanvapi mosque in Varanasi and Krishna Virajman–Shahi Idgah mosque in Mathura. Both have the potential to derail the peace in the country given the religious sensitivities of people.
The ruling BJP's pronouncement that it has nothing to do with these cases and that it will obey whatever verdicts come from courts is welcome. But as a ruling party at the Centre and in Uttar Pradesh, it has greater responsibilities. It must ensure that the issue does not spiral into public frenzy in the name of religion. 'Sabka saath, sabka vikas, sabka vishwas' will remain an empty slogan if the atmosphere of peace is vitiated. These phrases have become a byword of the Modi regime catching peoples' imagination. The Prime Minister has put them into effective use in his eight years of rule in the country.
Also Read: Sedition and free speech cannot go together
Much as the courts are now seized of the claims and counter claims by two sections, a more than 30-year-old legislation, known as Places of Worship (Special Provisions) Act, 1991, has become a focal point. In common man's understanding, the central idea of this act was to ensure that status quo was maintained in places of worship as it existed on August 15, 1947. The Act came in the backdrop of re-opening of the gates of the Babri mosque leading to religious upsurge and the nationwide frenzy that followed.
It is said the Indian Constitution is a lawyer's paradise. An avid practitioner of law can twist and turn the provisions to his or her advantage. The 1991 Act does have many clauses and sub-clauses open to interpretation. It is for the judiciary to interpret them rightly. Indeed, justice is said to be blind. But do judges not care about national interest?
History is replete with examples of religious excesses and bloodshed. But they were happenings of the middle ages rightly recorded by historians as dark chapters. Looking back will only exacerbate anger and animosity and unleash animal instincts. Progressive nations have forgotten them. India is among the fastest growing major economy in the world today. It has earned a name in the international arena. It is a major player in world events. Nobody knows it better than Prime Minister Narendra Modi.
India takes pride in its multi-religious, multi-lingual identity as a source of strength. This is an example before the world of how different faiths co-exist for centuries. The need is to preserve this identity and consolidate it further. Rule of law is inherent in a democracy. But where faiths collide, difficulties mount. For, no faith can be controlled by law alone. Leaders of civil society, political parties, religious leaders, among others, need to rise to the occasion to help solve issues of faith.
Kashi and Mathura symbolise the religious worship of. The more than three hundred years of cheek-by-jowl existence of different faiths in these centres of religious worship are a standing testimony.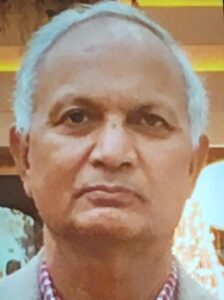 (Devsagar Singh is a senior journalist.)