As per initial information, all the four accused were acting as couriers and transporting the arms and ammunition in an Innova vehicle and were headed to Adilabad in Telangana.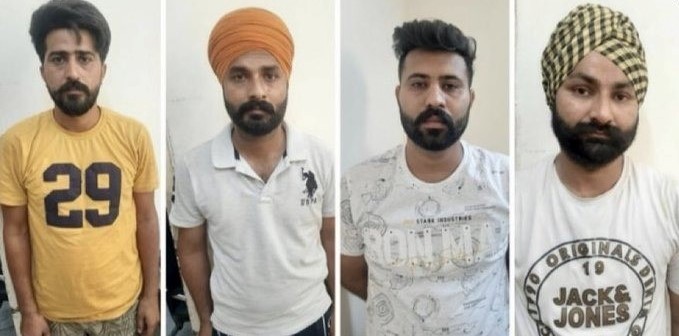 New Delhi: Four suspected Khalistani terrorists allegedly having links with Pakistan were arrested in Haryana's Karnal district on Thursday morning. Haryana Police arrested the suspected terrorists from the Bastara toll plaza while they were on their way to Delhi in a white Toyota Innova car, said officials.
The police said that a huge quantity of arms, ammunition and explosives have been recovered from them. According to the preliminary investigation, they were going to deliver explosives to Maharashtra's Nanded and Telangana's Adilabad. The police reportedly used a fully suited up bomb disposal expert and a military grade mini-rover to approach the SUV and look for the IEDs.
Law enforcement agencies have identified the arrested as Gurpreet, Bhupinder, Amandeep and Parminder, all residents of Punjab. As per the police, Gurpreet was earlier lodged in jail where he met Rajbeer, who had links with Pakistan. All the four reportedly used to deliver consignments of explosives across the country and have links with Pakistan's ISI. They were taking orders from another terrorist, Harvinder Singh, who handled them from Pakistan, the police said.
Police added that the arrested 'Khalistani' terrorists had got the explosive devices or IEDs to be distributed across India via drones. They managed to supply IEDs in at least two places earlier. The police have recovered a country-made pistol, bullets and three iron containers with IEDs. Cash of Rs 1.3 lakh was also found with them. "The weapons were air-dropped using a drone by Khalistani terrorist Harjinder Singh Rinda from Pakistan in Ferozepur district," an official said.
"As per initial information, all four were acting as couriers and transporting these arms and ammunition in an Innova vehicle and were headed to Adilabad in Telangana. They will be before a court and taken on police remand, after which they will be questioned in detail," a senior police official reportedly told the media.
Haryana Chief Minister Manohar Lal Khattar said that the suspects are associated with a terrorist organisation. According to the input received from Punjab, they have no relation with Haryana.