In West Bengal, several parts of which witnesses severe heatwaves, the people often make some delectable sharbats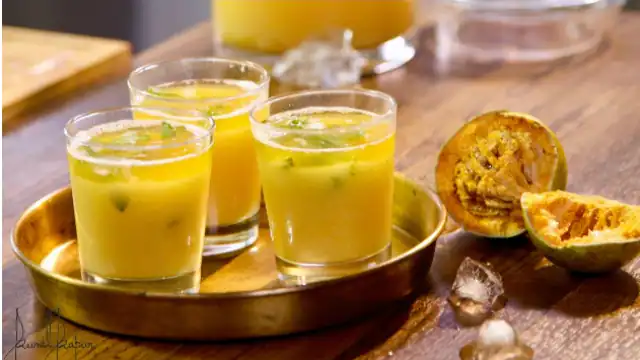 Kolkata: With the India Meteorological Department (IMD) predicting heatwave across the country, it is important for all of us to understand ways to protect ourselves from the heat. And the best way to do that is to stay hydrated. But is water enough? Or even if it is, why not make staying hydrated interesting?
In West Bengal, several parts of which witnesses severe heatwaves, the people often make some delectable sharbats and there's no denying, keep aside the health benefits (which they obviously possess), all of them taste insanely good.
Here are a few sharbat recipes from West Bengal that you can try out in any corner of the world. Don't forget to thank us later.
Doi-er ghol (butter milk Bengal style)
Doi-er ghol is a common delicious mixture of different spices along with the sour yogurt that keeps the body cool. The main ingredient in the doi-er ghol is the sour yogurt.
Method: In a glass or pitcher, take water along with the yogurt, some ice, black or pink salt, chaat masala, gandharaj lemon (kafir lime) and sugar. Mix all the ingredients to make a delicious drink.
It is best to use pink or black salt in this sharbat because they contains a lot of minerals which protect the body from dehydration.
Aam pora sharbat
Aam pora sharbat is basically the Bengal version of Aam Panna and the drink is made with raw mango, spices and cold water.
Method: Burn a raw mango in fire and squeeze out its pulp. Then mix the pulp with a few mint leaves, a dash of lemon juice and sugar. Add some water and put some ice and your aam pora sharbat is ready.
Gandharaja Julep
Gandharaj lemon or kafir lemon is a fragrant fruit of West Bengal which gives any food a heavenly taste. The main ingredient of gandharaj julep is the gandharaj lemon.
Method: Smash a few mint leaves and some lemonade or lemon juice in a glass. Add the gandharaj juice in it, some salt (preferably pink salt) and sugar to taste. Serve it with ice and water.
Daab-er sarbat
There is no need to explain the health benefits of green or tender coconut and in West Bengal, daab-er sarbat is a hit at all times.
Method: Mix tender coconut water with salt and lemon in a glass. You may add sugar if you want the drink to taste sweet. Coconut usually has natural sweetness. Don't forget to serve the drink with a slice of the soft core of a green coconut. And there you have the famous daab-er sharbat.
Bel panna
Bel, bael, wood apple or the Bengal quince is a very nutritious fruit and its sharbat not only beats the heat but also keeps the stomach clean. Bel contains vitamins A, B, C and fiber.
Method: First break the bel and squeeze out the pulp. Now, mixing some salt, sugar and cold water in it and it is ready.