LIVE UPDATES: Governor Bhagat Singh Koshiyari on Wednesday morning had shot off a letter to the assembly secretary asking to convene a special session where Chief Minister Uddhav Thackeray would have to prove his majority.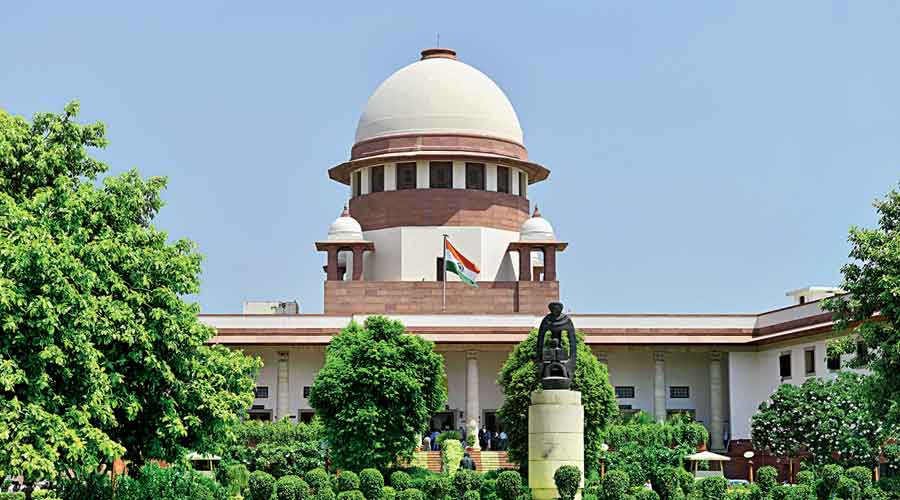 New Delhi: Hearing against the floor test ordered by Maharashtra Governor Bhagat Singh Koshiyari begins in Supreme Court. Koshiyari on Wednesday morning had shot off a letter to the assembly secretary asking to convene a special session where Chief Minister Uddhav Thackeray would have to prove his majority.
Read LIVE UPDATES HERE:
BREAKING: Supreme Court allows jailed MLAs Nawab Malik and Anil Deshmukh to participate in the floor test in the Special Session of Maharashtra Vidhan Sabha tomorrow. Since they are in judicial custody in cases registered by ED/CBI, both the agencies are directed to escort them to the Vidhan Sabha hall. When proceedings are over, applicants shall be brought back to judicial custody.
SG agrees that they can vote in floor test. "They will come in ED Custody and go back in ED custody", SG says.
Arora for Nawab Malik and Anil Deshmukh submits that the floor test is not like an ordinary election covered under Section 69(5) of RP Act.
Advocate Arora appearing for petitioners says that the bench had issued notice in the petition seeking vote in MLC elections to consider larger questions relating Section 69(5).
Solicitor General says that the Supreme Court has refused to allow them to vote in the Maharashtra Legislative Council elections. He cites the bar under Section 69(5) RPA which bars persons in prison from voting.
Justice Kant says, "Let them participate, they are elected MLAs. On a hypothetical situation, any central agencies can implicate MLAs in cases and prevent them."
Solicitor General objects to the petition.
The Bench is now hearing the petitions filed by Nawab Malik and Anil Deshmukh, who are now in jail, seeking permission to vote in the floor test tomorrow.
Bench says it is ordering notice on the petitions and that tomorrows floor test proceedings will be subject to the final outcome of the writ petition.
Supreme Court refuses to stay the floor test ordered in Maharashtra assembly tomorrow.
Bench concludes hearing.

Justice Kant says, "Give us some time to deliberate."
Bench will pronounce the orders at 9 PM today.
"May I ask who Mr.Kaul is appearing for? Governor's Secretary, Assembly Secretary, State of Maharashtra and Union Govt are parties," says Singhvi.
Kaul says, "May I take a second."
Singhvi replies, "There is no sur-rejoinder."
Singhvi says, "This is a question of balancing competing equities. Either defer the floor test for a week or prepone the other matter, that is the only way to balance. Is it not a strange case that they have not challenged the Speaker's rejection of their resolution?"

Singhvi concludes
"And the Shivraj Singh Chauhan decision applies only if there is no fetter on the Speaker. Floor test and disqualificaiton are undoubtedly related after your lordships have put a fetter on the Speaker. If Nabam Rabia is applied literally, then 10th schedule is ended. Because a defector can always send a resolution to remove Speaker and get away If it is applied like a Gita or Bible without considering the facts, then there is no 10th schedule," Singhvi argues.
"Please look at the real world. A Floor Test done tomorrow, followed by a disqualification to be proceeded by the Speaker, is irreversible. We cannot live in a theoretical world. It is irreversible," says Singhvi.
Singhvi says, "Governors are not angels. They are humans. It is why we have Bommai decision. Governor does not address the issue of sub judice. He does not verify. He does not call the CM for his view. I am not saying he is bound. But he does not call."
"Has Governor attempted to verify? Two days before he comes to Raj Bhavan, meets the leader of opposition yesterday and issues the order today. But the Speaker is to be always a suspect," says Singhvi.
Singhvi further says, "This is a Governor who has not allowed nominations to MLC for one year. Does the Governor have a single sentence in the order that the issue is sub judice before the Supreme Court and despite that I am exercising? No. No consideration of relevant aspect."
Singhvi adds, "It is repeatedly argued that the Speaker is always suspect but the Governor is a holy cow. That Governor can never be wrong, but the Speaker, the persona designate under 10th schedule is political. Those who believe that the Speaker is only political and Governor can never be political, I tell them, wake up and smell the coffee, don't live in ivory towers."
"The questions that we raised that was that motion for removal of Speaker under Ar 179 can be moved only when assembly is in session. The second thing, 179 uses "removal". So there has to be a charge against Speaker. No single charge is mentioned in that letter," says Singhvi.
"Nabam Rebia is decided that in that case Speaker cannot decide. If Nabam Rabia allows, their writ stands allowed on first day. Nabam specifically notes at para 167 that it is not a case of Floor Test, yet it is cited again and again in a floor test case," Singhvi says.
"When my left hand is tied from tenth schedule, and the right hand is asked to do floor test, the argument cannot be that the floor test is essential to democracy," says Singhvi.
Singhvi makes rejoinder

"A caricature is made out of my arguments. There has never been a single case where the hands of the Speaker was tied," he says.
SG adds, "In the absence of anything pointed out that the Governor decided based on extraneous circumstances or irrelevant material, your lordships will not intervene."

SG concludes
SG says, "Deputy Speaker gave two days notice. Now the same person is asking why 24 hours notice for floor test. The Governor has taken into consideration various letters sent to him. The Governor in totality is satisfied, based on relevant materials, that you have to immediately go to the floor of the house."
SG refers to a media report regarding threats issued to 39 MLAs.
Justice Kant says, "These kind of emotional statements…."
SG says, "Governor cannot ignore these aspects."
SG says, "Your lordship's question to the petitioner was that are you disputing 39 MLAs your majority. They said they have no means to verify. Truth comes up but. SG refers to the undertaking given by Maharashtra Counsel on June 27 to protect 39 MLAs, which was recorded in SC order."
"Your lordships have not interdicted the Speaker. The Constitution Bench's writ interdicts him. Having cleared that doubt, I could not understand how my order is bad," says SG. He adds, "The parameters for challenging Governor's order are not met by the petitioners."
SG says, "Speaker cannot decide his voters list. Speaker cannot decide his electoral college."
"Your lordship asked if the office of the Speaker can be misused when the Govt loses majority. One can always ask some member to present disqualification petition and I as a Speaker can decide the electoral college. So I will be deciding who will be voting on removal," says SG.
Solicitor General now appears for Governor.

SG says, "First of all, the argument that your lordships have interdicted the Speaker is wrong. It is not the lordship's order but the law which has interdicted him."
Justice Kant says, "We don't think the matter will become infructuous. Suppose if we find later that floor test was conducted without authority, we can annul it. It is not an irreversible situation."
Singh says, "By refusing their prayer, your lordships will be meeting the objectives of 10th schedule. The writ petition is filed with support of 16 out of 55."
Singh says, "Their argument is that the Governor acted without aid and advice of the ministers. There are judgments to show that the aid of ministers is not required for Floor Test. Taking the floor test to prove the majority is the principle of natural justice, not asking for the test to be stayed."
Senior Advocate Maninder Singh now argues to supplement Kaul's submissions.

"Whenever your lordships have sat late is to order a floor test. This is the first time when it is to stop a floor test", says Singh.
Kaul says 16 MLAs have been served disqualification notices. "We are not leaving the Shiv Sena. WE ARE THE SHIV SENA. We have the overwhelming majority," says Kaul. He adds, "There are 9 independent MLAs have also given us our support. It is the hopeless minority of 14 who are opposing us."

Kaul concludes
"Justice Kant asks: "And how many of them served disqualification notices?"
"According to my instructions, 39 out of 55. That is why the great nervousness to face floor test?" says Kaul.
Justic Kant asks: "Just on facts, how many MLAs are in the dissident group?"
Kaul adds, "Dr Singhvi argues that the floor test will render infructous the proceedings. When the SC says that they operate in distinct fields then how can it be said to be infructuous. Chief Minister's reluctance to face floor test will be prima facie construed that he lost majority in house. I have read out that from the judgment. The underlying objective of floor test is to uphold political accountability and political morality, Supreme Court has held so."
Referring to 2019 order passed in Shiv Sena case after Maharashtra assembly elections, Kaul says, "To prevent misuse, other political considerations coming in and preventing horse trading, the court has asked the floor test to be conducted at the earliest."
Kaul further says, "To sum up my propositions, the Speaker cannot decide at all as per Nabam Rebia; disqualification and floor test are two distinct fields as per Shivraj Singh Chauhan."
Kaul says, "No one is saying Governor's decision is immune from judicial review. But is it that kind of a case where the Governor's decision can be substituted with your lordships?"
"Floor test can brook no delay since the authority of the government presided over by the Chief Minister depends on the Council of Ministers continuing to have the faith of the legislative body as a collective entity", Kaul quotes from Shivraj Singh Chauhan case.
Kaul says, "So, the Speaker cannot decide as per this decision. The argument of petitioner has no legs to stand."
Kaul takes the bench through Nabam Rebia decision.

"We are satisfied, that the words "passed by a majority of all the then members of the Assembly", would prohibit the Speaker from going ahead with the disqualification proceedings under the 10th Schedule, as it would negate the effect of the said words after the disqualification. It would be constitutionally impermissible for a Speaker to adjudicate upon disqualification petitions under the Tenth Schedule, while a notice of resolution for his own removal from the office of Speaker, is pending."
Kaul says, "There is information available in public domain, independent MLAs have written to Governor, so he has taken a decision on relevant materials. And what kind of argument is that Governor has recovered from COVID just two days ago? So a person who has recovered from illness should not discharge his constitutional duties?"
"The Chief Minister's refusal to take the test could be construed to, prima facie, indicate that they do not enjoy the confidence of the Legislature", Kaul quotes from Bommai decision.
"You cannot just frown upon media reports saying that they are media reports. Media is also an integral source of information," Kaul says.
Kaul adds, "Deputy Speaker ignores Nabam Rebia decision. And this Court came to the rescue of the legislators. If he had chosen to do that, we would have sincerely persuaded this court to stay the order. You are talking about an order which the Speaker simply cannot pass. Nabam Rebia is clear on that. So there is no question of arguments of my learned friend like pool getting smaller not arising. The unfolding situation requires a floor test and the Governor in his discretion has decided."
"Rabia decision is exactly this," says Kaul. He adds, "How can you rule out political considerations from this? This is the exact words used by Rabia case. So a pecking order is laid. First removal of Speaker. Then disqualification proceedings."
Justice Kant says, "Hypothetical question, we asked Singhvi also, can there be a situation against democratic morality that the Govt, knowing that it has lost majority, is using the office of the Speaker to issue disqualification notices?"
He further says, "As far as power of Governor is concerned, I need not labour, on certain issues, Governor can act on his discretion. Floor test is his discretion. Is the action of Governor in this matter so irrational? Even in cases of Shiv Sena and Parameshwar (Maharashtra & Karnataka assembly cases 2020 & 2019), the Supreme Court went on to say, we will decide larger questions on a later date but ordered that floor test must be held immediately."
Kaul adds, "The more you delay a floor test, the more damage and violence you do to the Constitution. If you want to prevent horse-trading, the best way to stop is floor test. Why are shying away from this?"
"If Speaker had passed that order, we would have persuaded your lordships to stay the order as per Rebia decision," says Kaul.
Justice Kant says, "Not just notice, because of interim order."
"How can the petitioners be permitted to argue this point when SC says pendency of the matter does not come in the way? Can there be a better place in a democracy to determine who is supporting the govt than the floor of the house? The only argument is that because your lordships have issued notice, floor test must be deferred," says Kaul.
Kaul quotes, "The pendency of the proceedings before the Speaker cannot be a valid basis to not have the confidence of the House in the government determined by the convening of a floor test."
Kaul further quotes, ""The holding of a trust vote operates in a distinct field from the issue as to whether one or more members of the Legislative Assembly have embarked upon a voluntary act of resignation or have incurred the wrath of 10th Schedule. The continuous existence of that confidence is crucial to the legitimacy and hence survival of the government. It is a matter which can brook no delay".
"It is inevitable that the specific timing of a trust vote may tilt the balance towards the party possessing a majority at the time the trust vote is directed.This is how the system of parliamentary governance operates", Kaul further reads from Shivraj Singh Chauhan.
Kaul says that in Shivraj Singh Chouhan, the Court rejected the argument that the observations in Nabam Rebia is obiter. "It is with a view to obviate illegitimate and unsemly political bargaining in the quest for political power that this Court has consistently insisted upon the convening of a trust vote at the earliest date", Kaul quotes from Shivraj Singh Chauhan.
Kaul adds, "Normally parties rush to Court to say hold the floor test because someone else is hijacking the party. Here, the opposite is sought, the party wants no floor test. Where does the natural dance of democracy take place? At the floor of the house. I have seen everyone keen to take the floor test. I have seldom seen a party so afraid to conduct a floor test."
Kaul says, "My learned friend wants both to be co-related. There cannot be correlation. Shiv Raj Singh decision was sought to be distinguished, but it was a case of resignation. They are in a hopeless minority within the Party itself, forget the house."
SC says, disqualification has no bearing.
Kaul says, "Argument is that tomorrow if they get disqualified, the pool will get smaller."
Justice Kant says, "Hypothetical question we asked Singhvi, slightly different one we ask you. Who are competent to participate in the floor test?"
"This is an area carved out for the discretion of the Governor. Unless the decision of the Governor is held to be grossly irrational or malafide, there can be no interference. Independent MLAs have written to him," Kaul says.
Kaul says, "Supreme Court says disqualification proceedings have no bearing. Floor test is the healthiest thing that can happen in a democracy. SC says the moment a Chief Minister shows reluctance, it prima facie gives the view that he has lost the confidence of the house."
Justice Kant says, "This argument suggests that first of all we should determine the competence of Speaker."
Kaul adds, "It is not as if your lordships are interfering with the proceedings. My principal argument was that Speaker has no authority. That is settled by Constitution Bench judgment."
"I will respond to your lordship's pertinent observation. When we came to court, an overwhelming majority was with us. We also write to Speaker that you don't enjoy the majority of the house. On 24th Speaker gives us disqualification notice. In this background we came here," says Kaul.
Justice Kant says, "The slightly different argument by the other side is that the proceedings are not voluntarily kept pending by the Speaker but are stopped because of orders of the Supreme Court."
Kaul adds, "It is well settled that a floor test should not be delayed. Merely because of pendency of proceedings relating to whether MLA has resigned or 10th schedule is no ground to interdict floor test. Supreme Court has held both are distinct issues."
"It is not a question of Court interdicting, it is question that you cannot deal with the matter as your competence is questioned," Kaul said.
Senior Advocate Neeraj Kishan Kaul starts submissions for Eknath Shinde. Kaul refers to Nabam Rebia decision to say until Speaker's removal is decided, disqualification cannot be decided. "First and foremost it is to be decided if the Speaker has to be removed or not," he said.
"Justice can be done either if the fetter on the Speaker is lifted or if the floor test is deferred," Singhvi concludes.
"Your lordship has not said anything on Whip issue. Tomorrow whose whip is to be followed? Those who are subjected to Whip of Prabhu will be subjected to the other whip too. They will also issue whip. It will be a piquant situation," Singhvi said.
"I am the Whip of Shiv Sena recognized long ago much before all this. Now they have proposed an alternate person. In the other writ, Mr.Kaul raised the point Chief Whip is not Mr. Prabhu. Today Mr.Prabhu is Whip recognized by Speaker," says Singhvi.
"In this case, today the hands of the Speaker are tied," says Singhvi.
"The point of the mater however is that nothing prevents the Speaker from taking a decision either on matters of resignation or disqualification despite convening of a trust vote. That the Speaker has not yet done so, is not a ground to defer the convening of a trust vote," Singhvi quotes from the MP assembly case.
"Unlike the Madhya Pradesh case, Speaker is not a free agent now as your lordships have stopped him," says Singhvi.
"I am reading this because my learned friends will cite this case to say that floor test can be held even when disqualification proceedings are pending. But the significant difference is that in this case, the Court has interdicted the proceedings," Singhvi tells court.
Singhvi now refers to MP assembly case (2020): "It was a case where artificial majority was created by engineering resignations. After resigning, govt falls, and you become a minister in a new govt as a reward for resignation and in 6 months you get re-elected," Singhvi says.
He adds, "In that case (MP case), Speaker had not decided and was dilly dallying, there was no court interdiction. I had argued that till the time disqualifications are decided, floor test must not be held. This Court held floor test can be held."
Singhvi says, "The personal immunity from answerability under Art 361 does not bar the examiniation of mala fides. All the other cases are of simple floor test. There is no intersection with disqualification. Those were simple cases with no imminent disqualification. Now, in Rawat case (Uttarakhand), note para 17. In Rawat, Uttarakhand case, see para 17, there was a submission that disqualified persons should be allowed to vote. It was a case of floor test where disqualification was decided."
"Your lordships are not barred (from reviewing governor's decision). What is the scope of immunity of Art 361? They are bound to cite it. 361 only means Court will not make Governor a party and issue notice to him. That is why we take care to make Secretary a party," Singhvi says.
Singhvi refers to Kihoto decision."The object of 10th schedule is to curb the evil of political defections motivated by lure of office or other similar considerations which endanger the foundations of our democracy"
Justice Kant asks, "Is it on facts that they have sent a letter asking for a govt to be formed by the opposition?"
Singhvi says, "While the matter is waiting for adjudication before the Supreme Court, how can the Governor who just recovered from COVID, after a meeting with the Leader of Opposition, ask for a Floor Test the next day? Is it not making a mockery of all this law, Constitution Bench decision and 10th schedule?"
Singhvi adds, "The people who have changed sides and defected cannot represent the will of the people. Can't the Governor trust the Court to not call a Floor Test tomorrow? Will heavens fall if there is no Floor Test tomorrow?"
"While the matter is waiting for adjudication before the Supreme Court, how can the Governor who just recovered from COVID, after a meeting with the Leader of Opposition, ask for a Floor Test the next day?" says Singhvi.
Singhvi says, "These MLAs go to Surat and then to Guwahati after sending an unverified email that they have no trust in Speaker, to disable him from exercising 10th schedule power."
Supreme Court asks advocate Abhishek Singhvi, appearing for Sunil Prabhu, "Are you disputing that 34 members of your party haven't signed letter?"
Sunil Prabhu's lawyer submitted that this Court is considering the validity of the disqualification proceedings and has kept the matter for hearing on 11.07.2022. The issue of disqualification is directly connected/interlinked with the issue of Floor Test.
Prabhu's lawyer says, "On one hand, court has stayed disqualification proceedings, on the other hand, MLAs are going to vote tomorrow, it's a direct contradiction."
Supreme Court bench says, "The disqualification case is pending before us, we will decide whether the notice is valid or not? But how is this affecting the Floor Test?"
"The voting (in Floor Test) should not take place before the Speaker's decision. After his decision, the number of members of the House will change," Prabhu's lawyer.
Prabhu's lawyer further says, "It's akin to saying Election Commission holding election saying that the electorate will include dead people or people who have moved out. If the Floor Test is done without determining if A,B,C,D are disqualified, pool in which Floor Test will be held, will change."
Sunil Prabhu's lawyer says, "There is supersonic speed for the Floor Test. The Floor Test determines which govt represents the will of the people. A Floor Test is supposed to find out the true majority. True majority will include those eligible to be included."
Supreme Court starts hearing plea filed by Shiv Sena chief whip Sunil Prabhu challenging Maharashtra Governor Bhagat Singh Koshyari's direction to Chief Minister Uddhav Thackeray to prove his majority support on the floor of the House on June 30th.