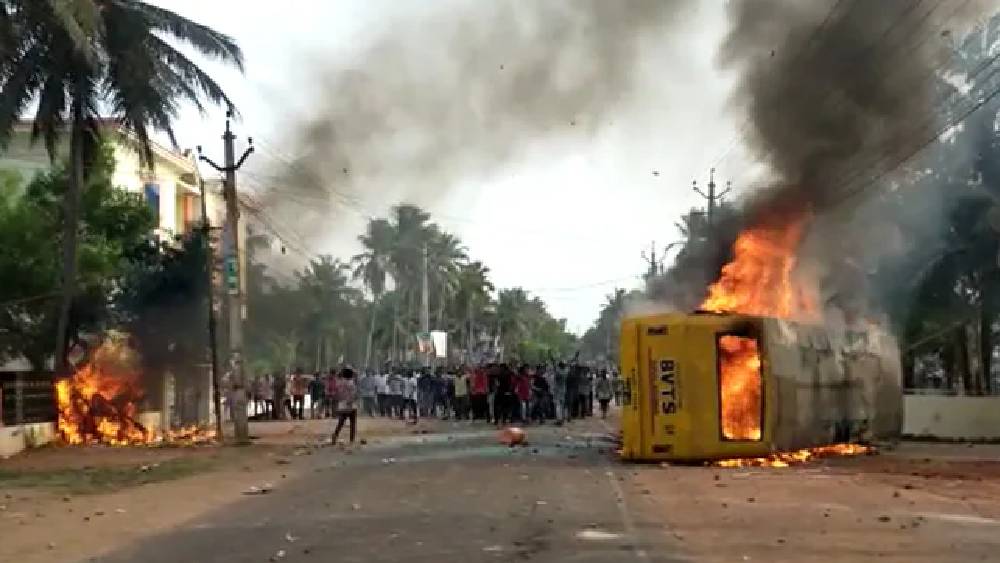 Hyderabad: Angry over a proposal to rename the newly-created Konaseema district as BR Ambedkar Konaseema district, a group of people in Andhra Pradesh's Amalapuram city Tuesday set state Transport Minister P Viswarup's house on fire. To save themselves from the mob, the minister and his family were moved to a safe place.
As per the report, a bus belonging to an educational institution's bus and a police vehicle were also set ablaze by the protesters. A few policemen were also u-injured due to the stone pelting by the angry people.
Andhra Pradesh Home Minister Taneti Vanitha alleged involvement of political parties besides anti-social elements in arson and vandalism. She informed that scores of police personnel have sustained injuries during the violence. The minister also said to investigate the matter properly and take penal action against the culprits. She also called it an unfortunate incident as public and private properties were set on fire.
"People should feel proud for remaining in the district by including the name of BR Ambedkar but a few social elements tried to incite violence. They do not even spare a school bus," the minister.
A week ago, Andhra Pradesh Government had issued a notification to rename Konaseema as B R Ambedkar Konaseema district. The government had invited objections. The Konaseema Sadhana Samiti opposed the state government's proposal of renaming of the district and wanted the name Konaseema retained.
Members of the group had staged protests and had approached the district administration to submit a memorandum. Police tried to foil the protest, which apparently angered them and violence was started.