Sanjay Raut appeared before the ED on Friday to record his statement in connection with a money laundering case.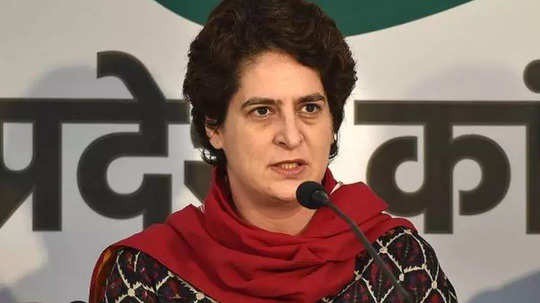 New Delhi: A day after Shiv Sena leader and Rajya Sabha MP appeared before the Enforcement Directorate (ED), Congress general secretary Priyanka Gandhi on Saturday slammed BJP-led central government. Gandhi said that the party is using all tricks to supress voices for opposing its 'anti-democratic politics'.
Also Read: Centre misusing central agencies against those speaking truth: Mamata Banerjee
Priyanka Gandhi, in a tweet, said, "Action inspired by the spirit of revenge and malice against Rajya Sabha MP Shri @rautsanjay61 ji by the BJP government is condemnable. BJP is adopting every trick to suppress the voices standing in opposition to its anti-democratic politics. But, the stick of lies and repression will not last long in democracy."
Sanjay Raut was appeared before the ED on Friday to record his statement in connection with a money laundering case. The Shiv Sena leader had spent nearly 10 hours at ED office. He had reached the probe agency's office around 11:30 am and left around 10 pm.
Also Read: Enforcement Directorate summons Sanjay Raut; Arrest me, Raut hits back
Raut, in a tweet, had said, "I will be appearing bfore the ED tody at 12 noon. I respect the Summons issued to me and it's my duty to co-operate with the Investigation agencies. I appeal Shivsena workers not to gather at the ED office Don't worry !"
The probe agency had asked Raut tom appear before ED on June 28. Responding to the ED's charges, Raut had tweeted, "I just came to know that the ED has summoned me. Good ! There are big political developments in Maharashtra. We, Balasaheb's Shivsainiks are fighting a big battle. This is a conspiracy to stop me. Even if you behead me, I won't take the Guwahati route."
Earlier on April 5, the Enforcement Directorate had provisionally attached properties of three persons, including Shiv Sena MP Sanjay Raut's wife Varsha Raut, worth Rs 11.5 crore. The case pertains to a Prevention of Money Laundering Act (PMLA) case filed in Mumbai's Goregaon by Guru Ashish Construction Pvt Ltd, a subsidiary of Housing Development and Infrastructure Ltd (HDIL).
Also Read: ED attaches properties worth Rs 11.5 crore owned by Sanjay Raut's wife, others
The others whose properties were attached were Swapna Patkar, wife of Sujit Patkar, a close aide of Sanjay Raut and businessman Pravin Raut. Moments after the development, Sanjay Raut said the central agency's move is vindictive and that he is not scared.
In a statement, the ED had said, "The attached assets are in form of lands held by Pravin M Raut, former director of Guru Ashish Construction Pvt Ltd, Mumbai at Palghar, a flat at Dadar of Varsha Raut and plots at Kihim beach at Alibaug jointly held by Varsha Raut wife of Shri Sanjay Raut and Swapna Patkar, wife of Shri Sujit Patkar."