The blooming of colourful flowers in the New Delhi area gives the vibes of the upcoming Holi festival: NDMC VC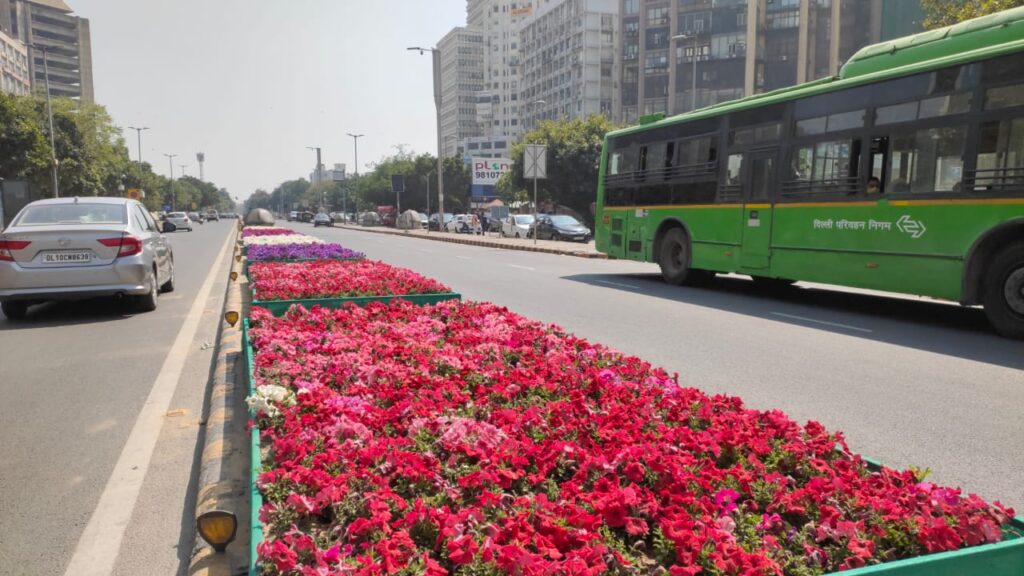 New Delhi: New Delhi Municipal Council (NDMC) has developed an half kilometer stretch in a concrete central verge at Barakhamba Road with Petunia Flower beds in a prefabricated.

NDMC Vice Chairman Satish Upadhyay said that the Barakhamba Road is surrounded by office buildings which are full of hustle & bustle. That is why NDMC takes initiative by using new techniques to develop planters in the concrete surface between the roads without any digging work. He said that this initiative not only gives uniformity & beautiful look but also give pleasant ambience environment, happiness area with same level of flower having same height which looks like a flowery carpet spread in the stretch of half a kilometer.

He said that the Petunia flower blooming period is till May end and the reason for planting this flower particularly is because it has a variety of colours and has a long span of life. The Petunia flower is less leafy and much flowery with sufficient period of blooming.

Upadhyay said that the depth of the soil in these planters is six to eight inch and width is two metres and having two layer first layer Geo-textile and second layer Green-texture having a quality to not allow soil go out. He said it will only allow water to go outside in case of excess giving. He said it consists of our department labour and fabrication cost extra which we completed in a short span of time. He said that we trained our Gardner for giving water through sprinkle only during less traffic hours.