Amid ongoing protests, Centre has cracked down on 35 WhatsApp groups for allegedly spreading fake news about the scheme.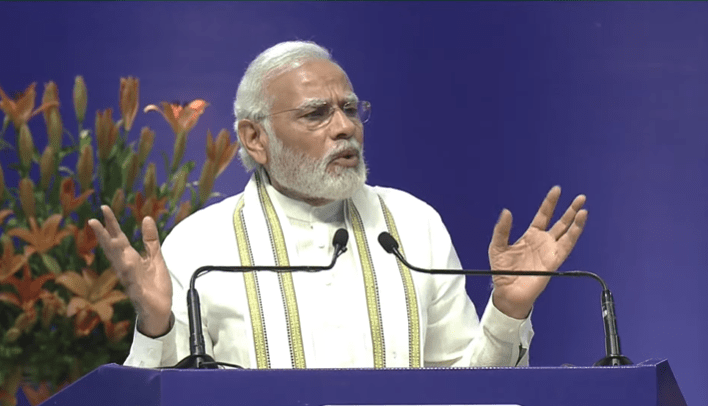 New Delhi: Amid violent protests all over the country against Centre's Agnipath recruitment scheme, Prime Minister Narendra Modi on Sunday said that it is unfortunate that good things get 'trapped' in politics. PM Modi, however, refrained himself from making direct comment over ongoing protests in form of vandalism, arson and loot of public property, but he mentioned that it is India's 'misfortune' that good intentions get trapped in politics.
It is the misfortune of our country that many good things, things done with good purpose, get caught in the colour of politics. Media also gets dragged into it due to its TRP compulsions," the Prime Minister said while taking part in a [public programming in the national capital.
Amid ongoing protests, Centre has cracked down on 35 WhatsApp groups for allegedly spreading fake news about the scheme. The move was taken amid threats to intensify the protests in coming days as the government wanted to stop spreading misinformation about its ongoing move to recruit youths in defence services as agniveers.
Moment after announcement of the scheme, violent protests have been witnessing in various states including, Bihar, Uttar Pradesh, Jharkhand, Rajasthan, etc. Since, protests have turned violent, scores of trains, vehicles have been set ablaze causing loss of hundreds of crores of rupees to the government exchequer. The military has suspected coaching centres' hand in instigating youths for sporadic violence all over the country.
The three services of armed force-army, air force and navy- have ruled out any possibility of rolling back the scheme. The three services have shared details and benefits of the scheme and have also announced dates to start recruitment. The government has also announced to increase upper age from 21 years to 23 years.
According to the navy's guidelines, a spirant cannot take part in Agniveer recruitment scheme if any FIR is registered against him. He/she will have to give a pledge he/she never took part in any arson or protest.
Earlier, Indian Airforce had announced benefits of the scheme for agniveers. The Indian Air Force has said to start process of selecting agniveers from June 24. With the announcement, Air Force became the first service to start recruiting agniveers since its announcement.
Air Chief Marshal VR Chaudhari, in his address, had said, "Recruitment process for Indian Air Force service is going to be kicked off from June 24. Upper age limit for joining the service has been raised to 23 which will benefit the youths," he said.
After the Home Ministry, the Defence Ministry had announced a 10% reservation of job vacancies in the Ministry of Defence for Agniveers. This comes amid violent protest by Armed Forces aspirants across the country.
Defence Minister Rajnath Singh had approved a proposal to reserve 10% of the job vacancies in Ministry of Defence for Agniveers meeting requisite eligibility criteria.