The TMC alleged that the Assam government has done nothing to help those affected by the floods.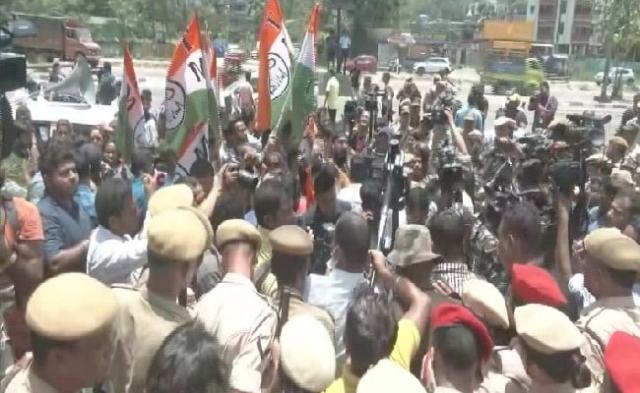 Guwahati: Trinamool Congress workers in large numbers on Thursday morning poured out in front of the Guwahati hotel where rebel Shiv Sena MLAs led by Eknath Shinde are currently camping. The agitators shouted slogans against the ruling BJP and accused it of using money to topple the Uddhav Thackeray-led Maharashtra government.
The protest is being led by Trinamool Congress's Assam chief Ripun Bora. The TMC also alleged that the Assam government has done nothing to help those affected by the floods and is spending public money on unnecessary things. In the floods that have hit Assam, around 89 people have lost their lives and at least 55 lakh people have been rendered displaced.
Also Read: Maharashtra crisis: Will quit CM post if asked: Uddhav Thackeray; 'Dump unnatural alliance', says Eknath Shinde
Eknath Shinde, who claims to have support of 40 Shiv Sena MLAs and six Independents, is yet to sign a deal with the BJP and is constantly demanding Uddhav Thackeray to break the "unnatural" alliance with the Nationalist Congress Party (NCP) and Congress and join hands with the BJP.
Shinde, in a series of tweets, on Wednesday said, "In the last two and a half years of Maha Vikas Aghadi (MVA) government, it has benefited only the constituent parties, and the Shiv Sainiks were overwhelmed. While the constituent parties are getting stronger, the Shiv Sainiks – Shiv Sena is getting systematic embezzlement."
"It is essential to get out of the unnatural front for the survival of the party and Shiv Sainiks. Decisions need to be taken now in the interest of Maharashtra. It is important to make this decision in the interest of Maharashtra," said Shinde, adding that, "the party must restore is alliance with the BJP to rule the state."
While the BJP is not getting involved in the matter directly, sources said the party is facilitating the movement of the MLAs from Maharashtra to first Gujarat and then Assam.