According to the reports, more than 30 rounds of bullets were fired to kill the 28-year-old singer whose security was trimmed a day before the attack.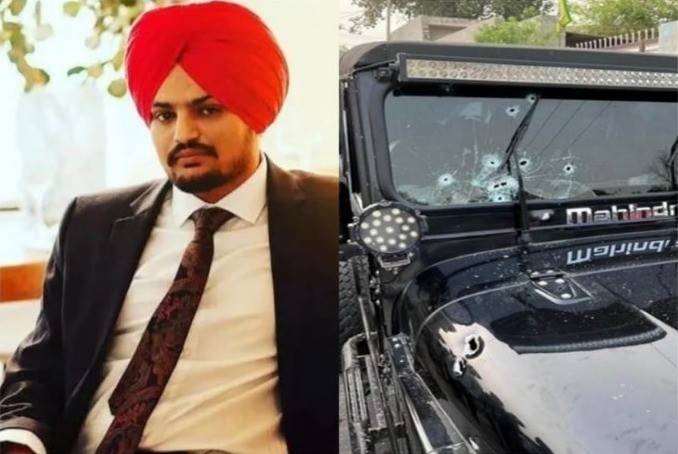 Ludhiana: Amid growing anger over death of Punjabi Singer Sidhu Moose Wala, a forensic team on Monday examined his bullet-riddled SUV. Moose Wala, himself, was driving the vehicle, Mahindra Thar SUV, when assailants fired bullets on him. The attackers fired multiple rounds of bullets on the vehicles by intercepting the singer from all sides following which the law enforcement agency had taken the car at Mansa Police Station to carry out further investigation.
According to the reports, more than 30 rounds of bullets were fired to kill the 28-year-old singer whose security was trimmed a day before the attack. Even after firing several rounds of bullets, attackers checked whether Moose Wala is dead or not. Police have reportedly found a pistol in Moose Wala's vehicle also.
Chief Minister of Punjab Bhagwant Mann has ordered an enquiry has ordered a probe on the decision to curtail his security detail. Expressing shock over the murder of Moose Wala, the CM had earlier tweeted, "I am Shocked and Deeply saddened by the gruesome murder of Siddhu Moosewala. Nobody involved will be spared. My thoughts and prayers are with his family and his fans across the world. I appeal everyone to stay calm."
AAP convener and Delhi Chief Minister Arvind Kejriwal had tweeted, "The murder of Sidhu Musewala is very sad and shocking. I just spoke to Punjab CM Man Sahib. The culprits will be given the harshest punishment. I request everyone to keep calm and maintain peace. May God rest his soul."
A day after the Bhagwant Mann-led Punjab government withdrew security covers of 424 VIPs, popular Punjabi singer and Congress leader Sidhu Moose Wala was shot dead by unidentified gunmen in Mansa district on Sunday.
The murder of the singer-politician is also being seen as a political turn of events which comes on the heels of a change of guard in Punjab and barely months after Bhagwant Mann took charge. Although the police have not divulged much details, sources said Moose Wala and others of the Punjabi entertainment world have been receiving ransom calls from international gangsters.
A video has now gone viral on social media platforms saw Moose Wala's car ridden with bullets and people rushing to check the singer's pulse moments after unidentified gunmen opened fire at his vehicle. Sources said at least 30 rounds of bullets were fired of which, Moose Wala was hit by eight.
Also Read: Punjab government removes security cover given to 424 VIPs
Sources said Moosewala usually move around in his bullet proof Fortuner but on Sunday, he was on a Thar which is not bullet proof. The singer-rapper-politician was rushed to the Mansa Civil Hospital in a critical condition but died during treatment. His two aides are in critical condition and sources said will be shifted to a larger hospital.
Moose Wala had fought the Punjab election on a Congress ticket from Mansa and was defeated by Aam Aadmi Party's (AAP) Vijay Singla. Singla was recently sacked by Mann over charges of corruption.