Scores of protesters barged into the building of state-owned television channel Rupavahini. The channel suspended its live and recorded telecast this afternoon.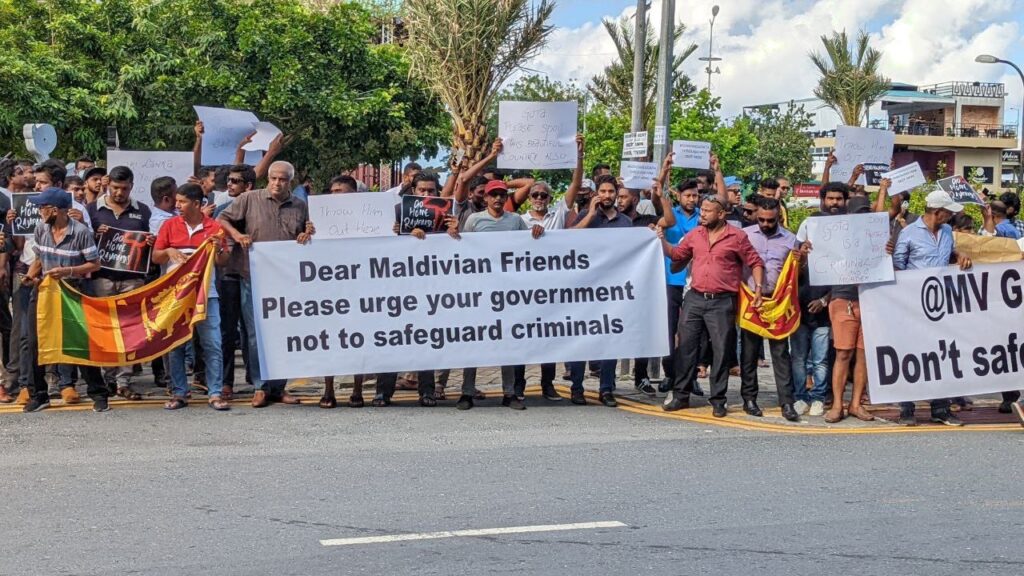 New Delhi: Hours after reaching to neighbouring Maldives, Sri Lanka President Gotabaya Rajapaksa on Wednesday faced protests in Male by Sri Lankan people living the island nation. The demonstrators who were holding Sri Lanka flag and placards were protesting against Rajapaksa's arrival in Maldives. They were demanding Rajapaksa be sent back to Sri Lanka.
The President also faced opposition by Maldives National Party as its leaders expressed unhappiness over the decision of government to allow his entry in Maldives. The party said that it will move a motion in this regard and will seek explanation from the government. The party leaders said that it is very unfortunate that Maldives government has no care about sentiments of Sri Lankan people who are on roads against the current political dispensation.
Former Foreign Minister of Maldives in a video message states that her party will submit a motion in parliament questioning the government for granting refuge to President Gotabaya Rajapaksa.
Meanwhile, Sri Lankan police and military have requested for political resolution to ongoing crisis which has been deepening with each passing day. The agencies have urged speaker to convene all-party meeting and discuss the steps to be taken to ensure political resolution to the current situation.
Sri Lanka's Chief of Defence Staff (CDS) has also requested demonstrators to support agencies in restoring peace in the region. In a press conference CDS urged protesters to remain calm and support the armed forces in maintaining law and order situation in the country.
In another development, scores of protesters barged into the building of state-owned television channel Rupavahini. The channel suspended its live and recorded telecast this afternoon.
Earlier, an Emergency was declared in Sri Lanka after Sri Lankan President Gotabaya Rajapaksa escaped to Maldives recently. The streets, mainly in Colombo, are now filled with violent protestors even as security forces are firing tear gas shells at them to quell the agitation.
Meanwhile, in a televised message, Prime Minister Ranil Wickremesinghe said he has asked the military to do whatever it takes to restore peace. The demonstrators "want to stop me from discharging my responsibilities as acting president…We can't allow fascists to take over", he said.
Days after his announcement to resign from the top post, Sri Lanka President Gotabaya Rajapaksa and his family on Wednesday fled to Maldives. According to the reports, Rajapaksa was received by Maldivian government officials at the airport in Male early morning.
Also Read: Here's what an Emergency in Sri Lanka means
Parliament Speaker Mahinda Yapa Abeywardena said Rajapaksa has appointed Prime Minister Ranil Wickremesinghe as the acting President while he is abroad. Rajapaksa had earlier said he will resign on Wednesday to pave way for a "peaceful transition of power". His announcement came after he escaped from his residence in Colombo moments before thousands of protestors stormed into his official residence.
Thousands of demonstrations who stormed Sri Lanka President Gotabaya Rajapaksa's house on Saturday claimed that they found millions of rupees from there. The protesters, however, have handed over the confiscated money to security forces.
According to unverified videos on social media, the protesters could be seen counting money which they claimed have found at the President's property. According to reports, former Sri Lanka Finance Minister Basil Rajapaksa's attempt to flee to Dubai was thwarted by protestors on the intervening night of Monday and Tuesday. Sources said Basil Rajapaksa, brother of Sri Lanka President Gotabaya Rajapaksa, was barred by the immigration officials and he had to return.