India is fast evolving as a frontrunner in high power computing with the National Super Computing Mission (NSM) with Supercomputing infrastructure already installed in 10 premier institutions like IITs, IISc, IISER Pune, JNCASR Bengaluru, various C-DACs, NABI Mohali, and benefitting researchers from several other institutions too. The final stage installation work is being carried out in 5 more institutions.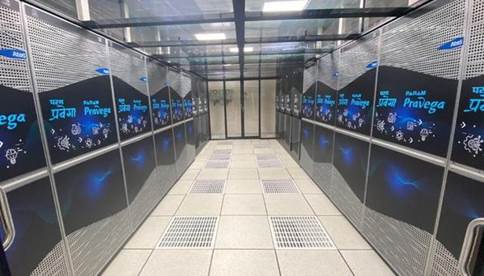 This will not only help meet the increasing computational demands of academia, researchers, MSMEs, and startups in areas like oil exploration, flood prediction as well as genomics, and drug discovery, but also firm up indigenous capability of developing supercomputers.
As part of the National Supercomputing Mission (NSM), the Indian Institute of Science (IISc) Bengaluru has installed Param Pravega, one of the most powerful Indian supercomputers. Param Pravega having a supercomputing power of 3.3 petaflops, is the largest supercomputer that has been installed in an Indian academic institution.
Going ahead, design and development of indigenous server nodes, interconnect switch, storage, and system software stack for next generation of High-Performance Computing (HPC) systems has been initiated with 85% indigenous manufacturing. This includes India's first indigenous server platform called 'Rudra', which can meet the HPC requirements of all governments and PSUs as well as the strategic needs of the country.
Besides, a next-generation indigenous HPC interconnect called "Trinetra" has been designed and developed in the country for efficient inter-node communication between compute nodes. This will help improve power efficiency and also support large-scale systems.