Raghurajpur is said to have given birth to one of the finest Odissi dancers of all time, Padma Vibhushan Guru Kelucharan Mohapatra. It is the birthplace of the famous and revered Gotipua dancer, Padma Shri Guru Maguni Charan Das.
Puri: Raghurajpur is a small village situated out of Puri district, in the state of Odisha, in India. What makes this village stand out is its rich cultural heritage! Raghurajpur is popular for its Pattachitra painters, which is a form of art that originated in 5 BC in this region. Besides this, the village is also famous for its Gotipua dance troupes, a form of dance which serves as the precursor to the traditional Indian classical dance form of Odisha, namely, Odissi. Odissi is an ancient Indian classical dance that is believed to have originated in the temples of Odisha. Gotipua is a form of dance that was practised even before its origin.
Located amidst groves of coconut, palm, mango and jackfruit trees, the main village has two main streets with more than 120 houses, most decorated with lavish mural paintings, where the artists reside and practise their Pattachitra art. The village is home to several temples dedicated to Bhuasuni, the local deity. Additionally, various Hindu Gods such as Radha Mohan, Gopinath, Raghunath, Laxminarayan, and Gouranga, also have temples to their names in this pious village.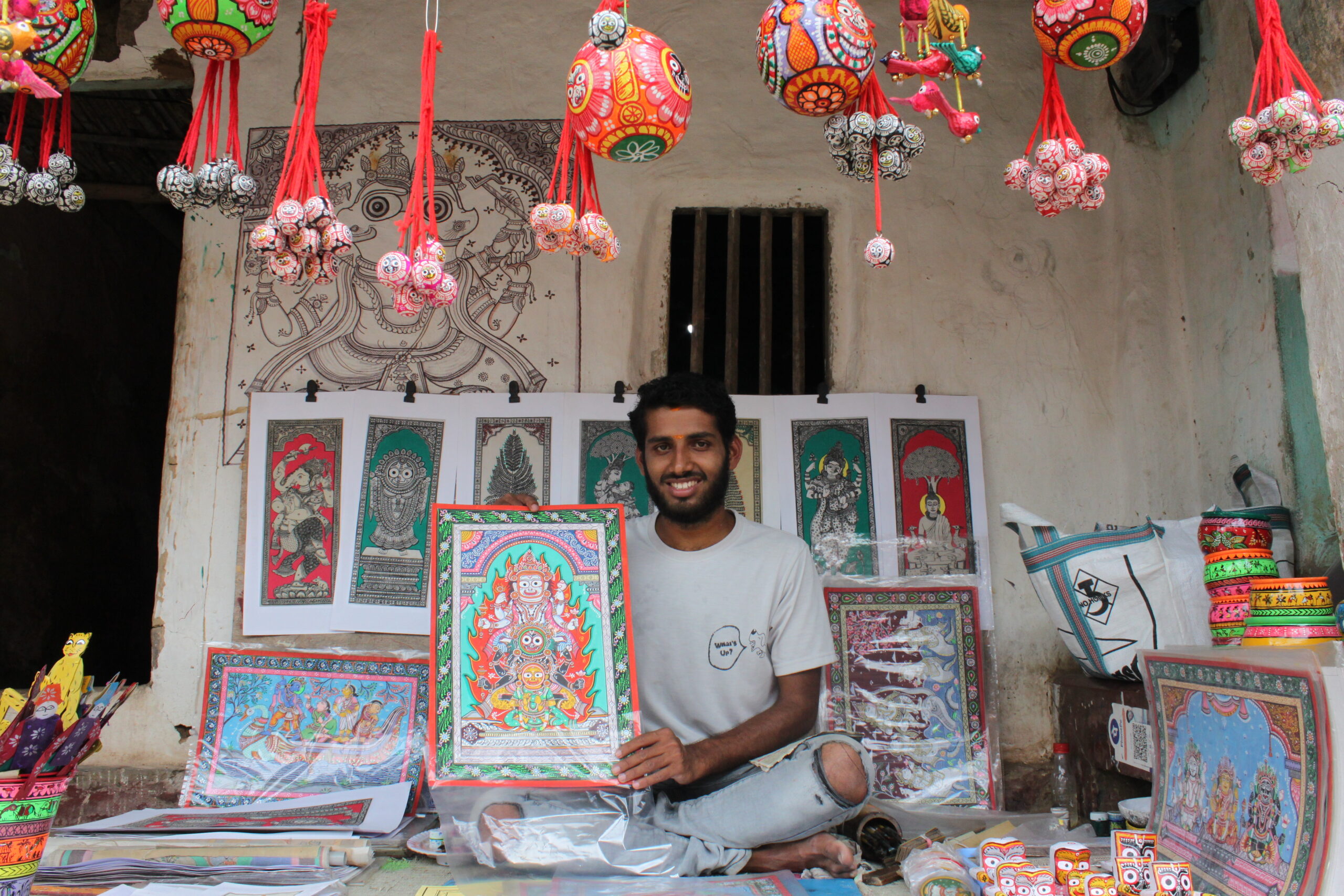 Raghurajpur is said to have given birth to one of the finest Odissi dancers of all time, Padma Vibhushan Guru Kelucharan Mohapatra. It is the birthplace of the famous and revered Gotipua dancer, Padma Shri Guru Maguni Charan Das. Shilpi Guru Dr. Jagannath Mahapatra, a prominent Pattachitra painter who has not only contributed artistically but also empathetically in the development of the village, was born in this village as well. The rich and diverse cultural heritage of this village is reflected in these legendary personalities that the village has given birth to.
Besides, the village is home to tussar paintings, palm leaf engravings, stone carvings, sculptures, wood carvings, wooden toys, cow dung toys, papier mache, and traditional masks. Raghurajpur is the only place where the traditional decoration called "Pattas" is found. This decoration is primarily used under the throne of Lord Jagannath, and on the three chariots during the Rath Yatra Festival that takes place in Puri (approximately 14 kilometres away), known for the Jagannath Temple which is both a pious pilgrimage site and an architecturally brilliant monument. Raghurajpur is situated on the southern banks of River Bhargavi, at a distance of around 2 kilometres from Chandanpur.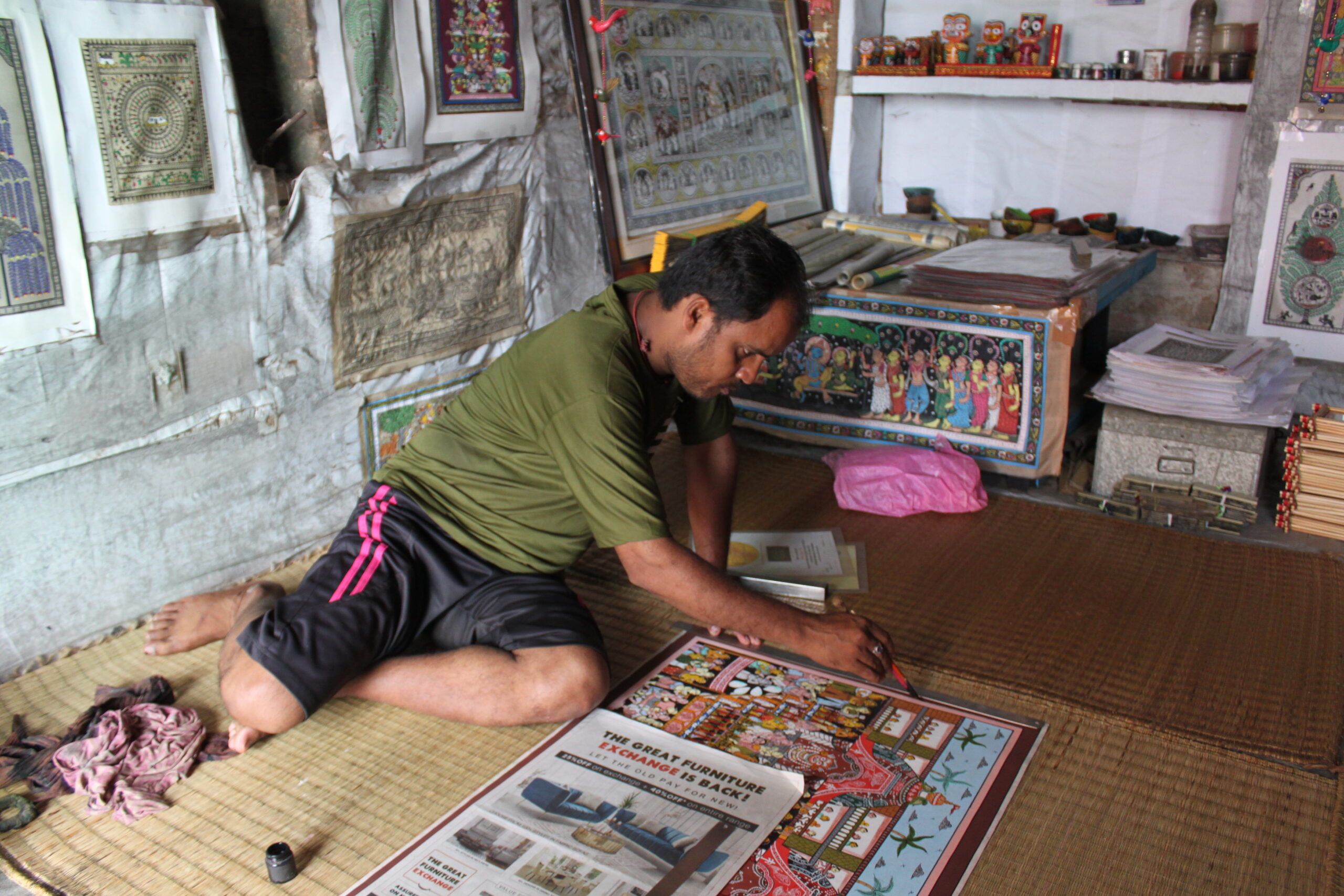 At present, Raghurajpur is the venue of the annual Basant Utsav – Parampara Raghurajpur (Spring Festival), which was first originated in 1993 under the able tutelage and sponsorship of the State Tourism Department and Eastern Zonal Cultural Centre, Kolkata, held in February or March. This festival draws tourists galore and thereby garners revenue.
In 2000, after a two-year research and documentation project by INTACH, starting in 1998, the village of Raghurajpur was chosen to be developed as Odisha's first village of cultural significance. The heritage of Raghurajpur was deemed culturally significant and valuable. The village was chosen to be developed as a crafts village. Soon, the village had an interpretation centre, commissioned artwork on the walls of the homes of the artists, and a rest house. The village soon became a major rural tourist destination that attracts both tourists from India as well as overseas. Villagers have been trained to provide heritage walks to the visitors by various organisations.
Raghurajpur has now emerged as a prominent template for heritage tourism in Odisha. However, the talented and industrious craftsmen of Raghurajpur are still waiting for more recognition. The Government of Odisha and India, and other concerned stakeholders, should utilise and implement online campaigns to promote and propagate Pattachitra artwork and paintings in other parts of the country.
Concluding with how the Pattachitra paintings are given life to, these paintings are made over a piece of cloth known as "Patta" (dried palm leaf), which is first painted with a mixture of chalk and gum. Over this surface, colourful and intricate pictures of various deities and mythological scenes with adornments of flowers, trees, and animals, are painted. The paintings on tussar sarees, especially the Sambalpuri Saree, depicting Mathura Vijay, Raslila, and Ayodhya Vijay, have originated from these Raghurajpur Pattachitra paintings!