Dr Sharma released a book named on Friday "Hospital Administration from the Perspective of Non-Medical Executives- The Unsung Heroes"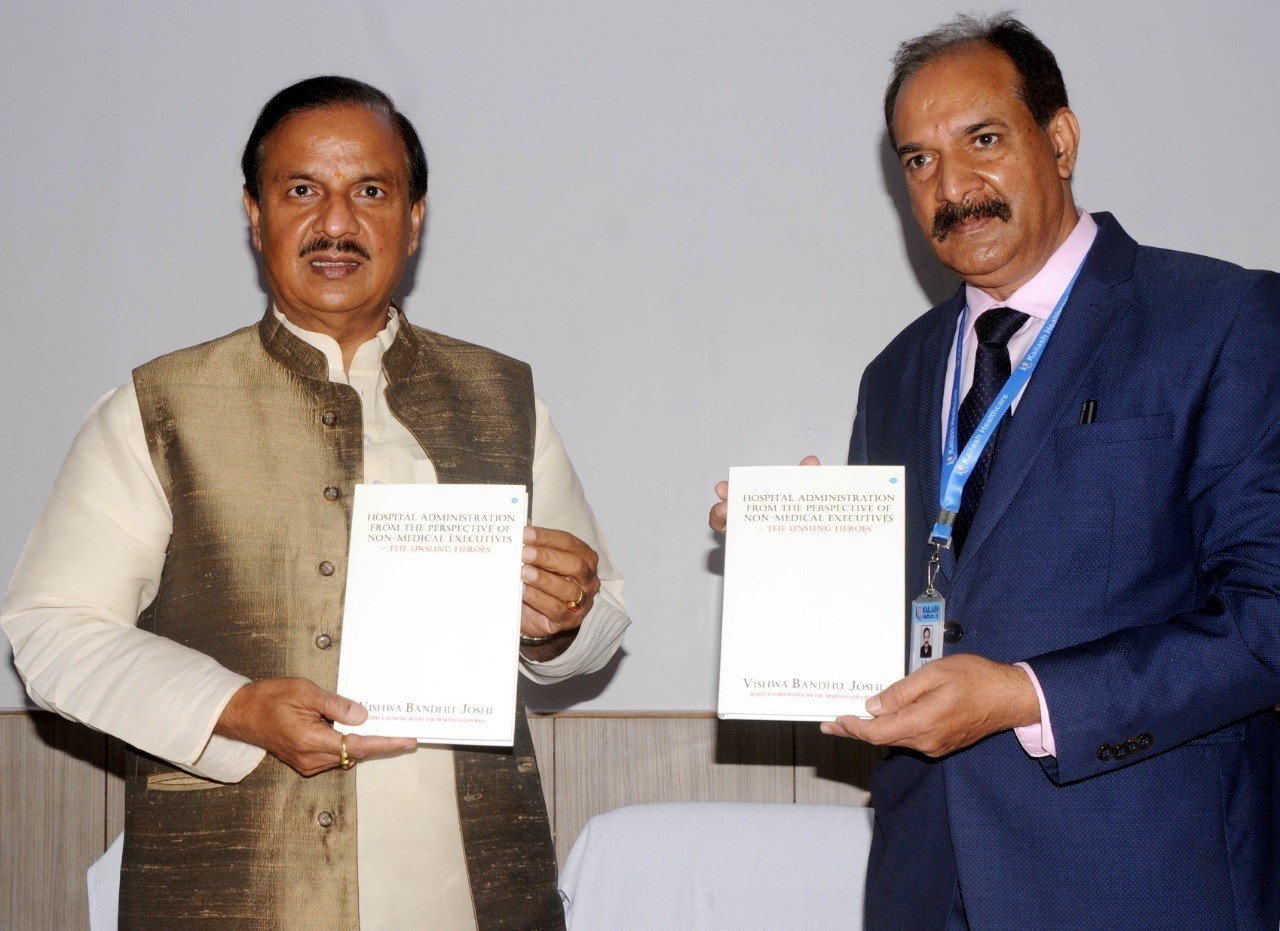 Noida: Member of Parliament from Gautam Buddha Nagar and Former Union Minister, Govt. of India Dr. Mahesh Sharma has released a book named "Hospital Administration from the Perspective of Non-Medical Executives- The Unsung Heroes" written by Vishwa Bandhu Joshi.
Speaking on the occasion, Dr Sharma appreciated the commendable work done by non-medical staff in the hospital, adding that this book will inspire the non-medical staff working in hospital ecosystem. "The author believes that, "The doctors and non-medicos have played an important role in saving millions of lives since the outbreak of Coronavirus, even some of them also died on the line of duties.
Joshi asserts that "On an average, 65-70% of non-medicos (administrators, managers, supervisors, pharmacists, nurses, paramedical staff, ward boys, clerks, housekeeping staff, etc.) support 30-35% of the medicos (doctors, dentists, physiotherapists) for the best medical treatment to produce the best results. However, the doctors get all the accolades, like recognitions in the form of awards and rewards, while the support staffs are generally overlooked." In the book titled – Hospital Administration from the Perspective of Non-Medical Executives – The Unsung Heroes, Author Vishwa Bandhu Joshi seeks to highlight some of the critical roles the nonmedicos play in the operation of hospitals, whose contribution in the healthcare sector must also be recognised.
The book shares a glimpse of the administrative achievements while working as unsung heroes. It also hopes to inspire aspiring young administrators who join the healthcare industry and perform their duties for the smooth running of a hospital.
The author also discusses the various hospital departments and the problems they face. He elaborates how a hospital administrator deals with solving the problems and the challenges he faces to resolve them. The author has extensively elaborated various departments and their functioning like the administration, OPD, wards, nursing, laboratory and diagnostics, TPA, accounts, finance, pharmacy, housekeeping, laundry, security and parking, transport, bio-medical, human resource, etc. which are very important in functioning of a hospital.
The author also states that to recognise the invaluable contribution of non-medicos in the healthcare sector, there should be a day dedicated to commemorate them. There should be a "Non-Medicos' Day" just like Doctors' Day and Nurses' Day.
Vishwa Bandhu Joshi is a senior manager in Kailash Group of Hospitals based in Noida, India. He has more than 20 years of firsthand experience in healthcare sector as a non-medical professional and the book is published by publisher " BLUEROSE" New Delhi, London. Now it is available Globally on amazon.