Rahul Gandhi has already been interrogated by the ED over 30 hours in three consecutive days since Monday.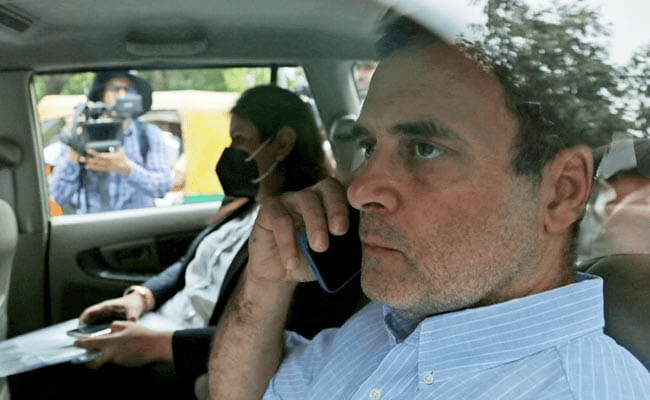 New Delhi: The Enforcement Directorate (ED) will interrogate senior Congress leader Rahul Gandhi in the alleged money laundering case next on Monday instead of Friday, the central agency said. This comes after Rahul Gandhi requested the ED to push back Friday's date to interrogate him.
Rahul Gandhi has already been interrogated over 30 hours in three consecutive days since Monday. Friday was the fourth day the central agency had summoned him to appear before it in connection with the case connected to the National Herald case.
The central agency has also summoned Sonia Gandhi but the Congress interim president is currently undergoing treatment at the hospital for some Covid-related complications and is expected to join the interrogation soon.
On Wednesday, the ED interrogated Rahul Gandhi for nearly 10 hours while on Tuesday the central agency had quizzed the senior Congress leader for nearly 11 hours. On Monday, the ED had questioned Rahul Gandhi for 10 hours.
On Tuesday, after appearing before the ED, Rahul Gandhi and Priyanka Gandhi Vadra had met their mother and Congress interim president Sonia Gandhi at the Sir Ganga Ram Hospital. Sonia Gandhi was admitted to the hospital for treatment of Covid-related complications.
The ED case is based on an order by a trial court that allowed the Income Tax Department to probe the affairs of the National Herald newspaper and conduct a tax assessment of Sonia and Rahul Gandhi. The order was a result of a petition filed by BJP MP Subramanian Swamy in 2013.
Subramanian Swamy had alleged cheating and misappropriation of funds on the part of the Gandhis in acquiring National Herald. He had also alleged that the Gandhis had acquired properties owned by the newspaper by buying the its erstwhile publishers, AJL, through an organisation called Young Indian in which the Gandhis have 86 per cent stake. Sonia and Rahul Gandhi were granted bail in the case by the trial court in December 2015.