Kalimpong district in northern West Bengal is set at an average elevation of 4,100 feet and Deolo or Delo is one of the two hills between which the Kalimpong town is set up.
Kolkata: For a Bengali, a Sunday is incomplete without panthar mangsho bhaat (mutton and rice) topped with a dash of lemon, and March 24, 2018 was no different for me. After filling my gut almost to the brim, I was flat on the bed lazily scrolling through my Facebook feed when a video uploaded by a fellow businessman anchored my interest. My friend was paragliding but where?
Till then I knew paragliding is possible in Solang Valley in Manali and a few other places like Bir and Gangtok but what is this place? I quickly dropped him a text and an hour later he called. "Kou korta video kemne lagtase? (yes boss, how was the video?)," my friend Nilanjan asked me in his typical Bangal (East Bengal) accent. And even before answering the question, I blurted out the most important query — "Where are you?"
The next thing I knew I was on a rocket bus of the North Bengal State Transport Corporation (NBSTC) on my first-ever solo trip five days after my conversation with Nilanjan and my destination was Deolo in Kalimpong.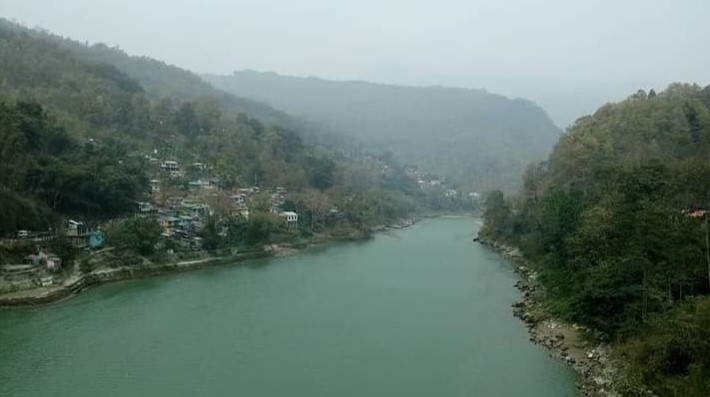 For those who do not know, Kalimpong district in northern West Bengal is set at an average elevation of 4,100 feet and Deolo or Delo is one of the two hills between which the Kalimpong town is set up.
Around 9.30 am the NBSTC bus wheeled into Siliguri, the junction from where a network of tourist spots in North Bengal and Sikkim branch out. I was put up at Icche Gaon, a small village around 7-8 km from Kalimpong town. The homestay owner, the kind-hearted Mr D K Khawas, had already arranged everything, including who would pick me up from Kalimpong and take me to Deolo. All I had to do was reach Kalimpong from Siliguri and I chose a shared cab.
Once at Deolo, I met Mr Prashant, an ex-Armyman and the owner of Alpine Paragliding referred to me by Nilanjan. In some time, I was handed out a form before the paragliding ride. Honestly, I didn't bother to read the clauses because the excitement within was on another level. But just then Mr Pashant entered and asked me if I had read point number 16.

WHAT IS POINT 16?
"If anything happens while gliding in the air no one will be responsible and I am taking this paragliding flight at my own risk."
I was in no mood to let point 16 spoil my mood and in the next 15 minutes my life changed forever when I finally took off on a glider along with Avinash Khawas, the instructor.

THE EXPERIENCE
The sheer thrill I experienced can only be understood by those who have flown in the air like me. From the butterflies in the stomach and the wind kissing my face to the hills beneath my feet and the thrill gripping my senses, the 7-8-minute experience was simply surreal.
Bengalis are not generally known to be a chivalrous race and I was no different moments back when although I was upbeat about flying in the air, point 16 had managed to shake up a few nerves. For those who are yet to try paragliding I would suggest you give it a shot at least once in your lifetime.
Later in the evening, when the homestay owners served a hot plate of chicken pakoras and the family help, Anil, was kind enough to help me out with a bottle of beer and I was in the balcony gazing at the silhouette of the hills cast under the dim moonlight, I began contemplating how I always wanted to experience this. How I always wanted to experience what it is to be thrilled. And that's exactly when I promised the hills to be back again soon.
(Victor Das is a businessman and a passionate solo traveller, in his words peshe se baniya, dilse banjara!)